how to pay 0%
If you want to fight inflation at your business by adding a small fee to your transactions  – Apply Now! If you are a business owner we have important information to share with you. Learn how to pay zero or next to nothing for merchant services with our eBook.
GET THE EBOOK + 2 BONUS INFORMATIONAL DOWNLOADS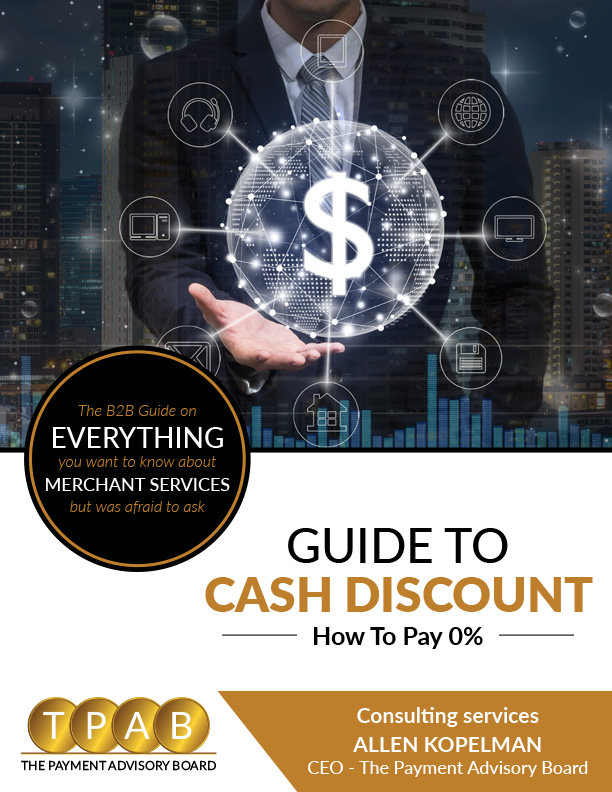 Cash Discount is not new – but relatively speaking it is new to the mainstream merchants. Merchants have been adding on fees – Government, Utilities, Education Sector and more! Gas Stations have had 2 prices cash and credit for years at many stations!
Allen has 20 plus years of experience in the merchant services industry and is a consultant to Banks, Investment Companies, and merchants to help them navigate Interchange and he teaches them about many of his "Interchange busting" secrets. You call your CPA for help with your taxes you call Allen to help you understand and learn how to get the lowest interchange fees and find out about programs like Cash Discount, Surcharge, and more.
How is Cash Discount legal?
Cash Discount Vs Surcharge
Why Is Cash Discount Legal?
Frequently Asked Questions
Cash Discount In The News
Introduction
We are focused on the merchant having the right technology and pricing along with getting customer service when they need it. We are your consultants and we help you figure out what type of account you need whether you are a start-up company or in business for 50 years.
We listen and then we advise and present the options. We have the experience and knowledge to assist business owners with not only getting the best interchange fees and pricing but also in servicing their accounts.
We have been in the business since 2001 and we have many long-time merchants who depend on our knowledge of the business to help them navigate Technology, PCI compliance, EMV, chargebacks, and more.
With 20 years of experience in the Bankcard industry and opening up thousands of merchant accounts for business owners all over the USA and the World, we wanted to share our knowledge in some short E-books about the products
and services we offer at The Payment Advisory Board.
Cash Discount was legal once the Durbin Amendment was passed which is tied to the First Amendment
There were lawsuits in all 50 states including Ohio v. American Express where the Supreme Court of The United States solidified that Cash Discount is legal
This book contained great information. It helped me save money at my business. It gave me a good understanding on how cash discount works.
Allen Co-Founded The Payment Advisory Board in 2010, with the plan to advise banks, software companies, merchants, and partners with a concierge-style service for each client. The company has clients all over the U.S.A today.
The entrepreneurial bug started early in Allen's life as comes from a family of business owners and learn about business from early age behind the cash registers at his father's clothing stores in Miami. Later going to Culinary School in Atlanta and being a Chef, then an Executive Chef for Metro Hotels in Dallas, Texas running food and beverage operations in Hotels. In 1992 a move back to Florida and opened a restaurant, catering company, and consulting group.
After gaining a couple of years of experience selling merchant services, Allen Co-Founded Nationwide Payment Systems with David Burney. Together the company started and quickly grew, products were added, processing banks, and the company became laser-focused on technology that would help merchants. Along with that came a focus on high risk businesses that many banks did not want to work with. Then in 2010 The Payment Advisory Board was hatched and we started to offer consulting services and now we are sharing our knowledge of the business with business owners across the globe.
Get a statement analysis.
Send us your merchant statement and we will provide a complete analysis of your current rates. Submit your email address and you'll be directed to https://interchangesecrets.com/